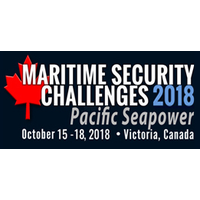 BC Maritime Industry Partners,

Maritime Security Challenges 2018: "A Strong, Secure, and Engaged Maritime Future" will take place October 15-18, 2018, at the Fairmont Empress Hotel in beautiful Victoria, BC, Canada. This will be the 8th edition of this premier international maritime security event held every two years in Victoria (mscconference.com), and it will bring to Victoria senior naval officers, academics, political representatives, scientists and students from around the world.

We believe that MSC18 provides a great opportunity to showcase the breadth of maritime technologies and services offered in British Columbia. On the morning of Wednesday 17 October, a mini-Expo will be held in the breakfast and coffee area to introduce the region's maritime industries to MSC18 attendees. This rare opportunity is designed to enhance the international exposure of your brand to this gathering several hundred practitioners and experts from military and government, commercial and academic communities around the world.

For only $200 your firm's table top display will come in direct contact with MSC18 delegates and sponsors during their stand-up breakfast (7:15-8:00 am) and morning coffee break (10:35-11:05 am). It will provide a rare opportunity to network and display your firm's products which will help present Victoria as a vibrant maritime industrial center.

Take advantage of this unique opportunity to heighten your company's profile amongst leading Canadian and international maritime experts and decision-makers.

For more information, please contact Brian Groos: msc@podiumconferences.com or 250.592.0590.
Registration Link: https://mscconference.com/
---