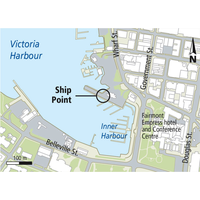 Salish Sea Industrial Services has been awarded a $1.8-million contract to repair Ship Point.
Work began this week and should be completed by March 2019. The work will replace the original timber-piling pier structure built in 1949 with new steel pilings. Repairs will focus only on the original pier structure and are in line with the City of Victoria's master-planning process for the site.
"Ship Point plays a major part in the identity of Victoria, serving as a site for dozens of public and family-friendly events throughout the year, making it a vital community amenity for our organization," said Ian Robertson, chief executive of the Greater Victoria Harbour Authority. "This repair work will allow us to revitalize the pier for the short-term, while we work with the city on realizing the long-term potential for this site."
Salish Sea, a marine construction business owned by the Songhees and Esquimalt Nations in partnership with Ralmax, will employ five full-time staff and local subcontractors on the site for the duration of the project.
The harbour authority owns 65 per cent of the pier, and the city owns 35 per cent.
Full Article >
Article Source: DARRON KLOSTER/ TIMES COLONIST
---